Plus Size Models or Curvy Model has an average to the larger structures of the body. Previously known to large size models. They are not exclusively over-weight or obese. All games are for the money and they started looking for the earning potential from plus-size clothing thus they started looking for Curvy Model for catwalk and advertising. Here we respect the value of mothers and women who has unwanted flesh in their body, But God knows the best, Introducing some top Plus Size Curvy Models in alphabetical orders. Also, visit another article Fat Ass People Looking Too Good And Funny
Plus-Size Model Ashley Graham
Ashley Graham First appears and signed a deal with Wilhelmina Models after attending a convention for models in 2001. Ashley Graham also released the book "A New Model: What Confidence, Beauty, and Power Really Look Like". In this book, Ashley Graham shows how was her experience being a Plus-Size Model and how she advocates her body positively.
Age: 30 Nationality: American
Appeared for: Vogue, Harper's Bazaar, Elle, Glamour, Levi's
Instagram: @theashleygraham
Curvy Model Barbie Ferreira
Age: 23 Nationality: American
Appeared for: Aerie, Adidas, Asos, Forever, H&M, Missguided and Target
Instagram: @barbieferreira
Barbie Ferreira is a model Director and an actress. She acted in 10-episode Vice series "How to Behave," focused on etiquette. This series got "Webby awards" for the best web personality/host. Barbie Ferreira also directed a music video named "so cool" with artist Dounia. Check Walmart GIF
Candice Huffine

Age: 33
Nationality: American
Appeared for: CR Fashion Book, Vogue, V Magazine, i-D, Glamour
Instagram: @candicehuffine
Chloe Marshall

Age: 27
Nationality: British
Appeared for: Macy's and Torrid, Plus Model magazine, Lane Bryant
Instagram: @chloemarshall01
Clementine Desseaux

Age: 30
Nationality: French
Appeared for: American Apparel, Christian Louboutin
Instagram: @bonjourclem
Babi Monteiro
Age: 44
Nationality: Brazil
Appeared for: Chanel, Jean Paul Gaultier, Vogue, Elle, Jimmy Choo, Dolce & Gabbana
Instagram: @barbramonteiro
Danika Brysha
Age: 33
Nationality: American
Appeared for: Model Meals, William Morris Endeavor, IMG Model Worldwide, Target, Kohls, Forever 21, Glamour
Instagram: @danikabrysha
Denise Bidot

Age: 34
Nationality: American
Appeared for: Nordstrom, Forever 21, Target, Old Navy, Lane Brynt, Levi's, Macy's
Instagram: @denisebidot
Hayley Hasselhoff

Age: 27
Nationality: American
Appeared for: Wilhelmina Models, Ford Models, British Plus Size Fashion Week, Torrid
Instagram: @hhasselholf
pre-nap pic.twitter.com/I9iiVBTzhG

— Hayley Hasselhoff (@HHASSELHOFF) July 6, 2018
Hunter Mcgrady

Age: 26
Nationality: American
Appeared for: Sports Illustrated Swimsuit, Lucky Brands, Bare, Seven 7, Vogue
Instagram: @huntermcgrady
null
Iskra Lawrence

Age: 29
Nationality: United Kingdom
Appeared for: Aerie, Adore Me, Chromat, American Eagle, Brand Ambassador of National Eating disorder Association (NEDA)
Instagram: @iskra
Iskra Lawrence Does not want to be classified herself as Curvy Plus-size Model. She actively criticizes "Body Shamers" on social media.
Also, view Walmart Meme
Jennie Runk

Age: 30
Nationality: American
Appeared for: H & M, Marie Claire, Vogue, Seventeen
Instagram: @jennierunk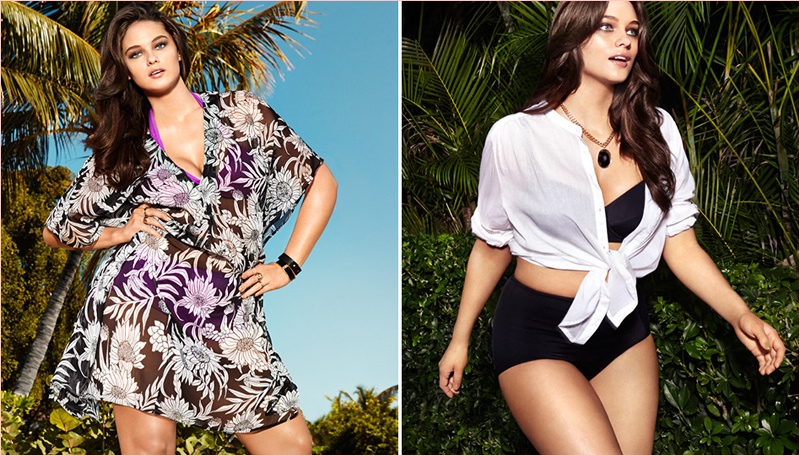 Jessica Leahy

Age: not verified approx. 30
Nationality: Australia
Appeared for: formerly Cosmo, ELLE, Aust. Women's Weekly, Body&Soul, Whimn
Instagram: @jessicavanderleahy
Plus Size Models La'tecia Thomas

age 24
Nationality: Australian
Appeared for: Fashion Nova Curve, PrettyLittleThing, Mary Holland Lingerie
Instagram: @lateciat
Nadia Aboulhosn

Age: 30
Nationality: American
Appeared for: Seventeen, Elle, Lord & Taylor, Vogue, Refinery29.
Instagram: @nadiaaboulhosn
Nadia Aboulhosn is a model, blogger, and designer lives in Orlando, Florida. Commonly she creates designs for boohoo.com, Elle and Lord & Taylor. She started as a part-time or spare time fashion blogger but now Nadia Aboulhosn is a full-time fashion blogger. Her favorite brands include Nasty Gal, ASOS, BooHoo, Missguided, and Adidas.

Philomena Kwao

Age: 29
Nationality: England
Appeared for: Lane Bryant, Torrid, Nordstrom, Evans, Sports Illustrated, Cosmopolitan UK, and Pride magazine
Instagram: @philomenakwao
Curvy Models Precious Victoria Lee

Age: 29
Nationality: American
Appeared for: Lane Bryant, Glamour, Saks Fifth Avenue, Target, Sports Illustrated.
Instagram: @preciousleexoxo
Saffi Karina

Age: 33
Nationality: England
Appeared for: Marks & Spencer, Debenhams, Speedo, John Lewis
Instagram: @saffi_karina
Curvy Models Tabria Majors

Age: 29
Nationality: American
Appeared for: Calvin Klein, Victoria's Secret and Fashion Nova
Instagram: @tabriamajors
Plus Size Models Tara Lynn

Age: 36
Nationality: American
Appeared for: Glamour, Elle, Vogue, Time Magazine, H & M
Instagram: @taralynn
Curvy Models Tess Holiday

Age: 34
Nationality: American
Appeared for: Torrid, People, Elle, Time Marie Claire, H & M, Cosmopolitan
Instagram: @tessholliday